EICR - Electrical Installation Condition Report
Electrical installation must meet regulated standards in order to ensure safety. Faults with the fuse board, switches or sockets could cause electric shock or fire, causing injury and damage to occupants.
According to a report by Electric Safety First, electricity fires affect 20,000 homes in the UK every year. Electrical products cause 89 per cent of the fires, while 11 per cent are caused by faulty wiring. Most of these incidents could be avoided by regular inspection and maintenance of electric systems.
Landlords are expected to ensure the safety of every tenant throughout their tenancy in the property. This includes making sure that electrical appliances, wires and fuse boxes are safely installed and working properly.
Regular visual inspections to detect potential electrical issues are necessary. However, some cables and wires are hidden from plain sight and may be overlooked by an electrician who's not qualified.
Have a qualified electrician check your property and issue an electrical installation condition report (EICR) to prove that your property confirms to high levels of safety standards.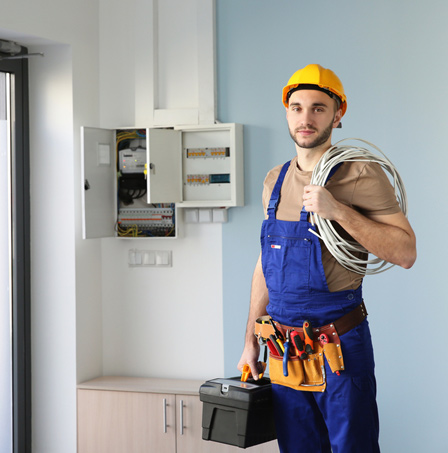 How is an EICR carried out?
An EICR should be conducted by an experienced electrical engineer or electrician.
For commercial and rented properties, the contractor will first discuss the operational limitations with the client. The inspection might require a few minutes of downtime, or the client might have to shut down their phone lines or servers while the assessment is ongoing.
Other limitations include areas of a property that an electrician should not access, such as cables in floors and walls that might require you to cut out the plaster or flooring.
Both electrician and client must agree on a sampling rate, which determines the percentage of sockets to be tested. The two parties may agree on increasing the sample size should any faults occur during the inspection.
To perform an EICR test, the electrician will disconnect the electrical installation from the property's main power supply. They will check the installation based on the standards set by the IET's Wiring Regulations.
Specific issues that can be revealed during an EICR inspection include:
Adequacy of bonding and earthing
Availability of residual current devices (RCDs) for sockets used to plug in outdoor electrical equipment
Conditon of visible cables and leads, light fittings and downlighters
Extent of damage or wear and tear on electrical installation and equipment
Suitability of control gear and switchgear
Serviceability of sockets, switches, light fittings and other electrical equipment
Changes in the property and premises that have led to, or might lead to, electrical installation deficiencies
Instances of "daisy chaining", or when one extension lead is connected to another extension lead